Women's Annex Foundation is to encourage and to empower women in Digital Literacy and Social Media. In the last year and half Women's Annex foundation with the help of Afghan development project have built 10 internet classrooms in 10 different schools at Herat, Afghanistan. Now more than thousands of afghan students at Herat are working on internet and have connected to the World Wide Web. This project has started working since one year and half in Afghanistan, which has two Offices in two different Provinces, Herat and Kabul. It is trying to extend its working team in all over Afghanistan to empower women and encourage them in education like Digital Literacy and Social Media.
As Francesco Rulli the founder and President of Film Annex mentioned that, the students are our priority, their Ideas and stories are the focus of our project. We want to make sure that they all are well connected to all over the world. Till now 40,000 students are connected to the World Wide Web.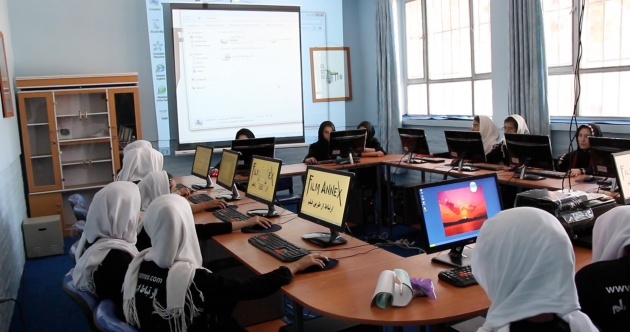 This project will make sure that you along the leading journalists, thought leaders and philanthropists meet each one through the social media, exchange Ideas and make things happen. Today project is getting extend and its purpose is to build more than 1,000 schools and to connect millions of students in Central and Southern Asia. As women's Annex led by Roya Mahboob who was named a Pioneer the 2013 Time 100 Most Influential People in all over the World. As we know the women's rights in Afghanistan have improved after Taliban regime, but during Taliban regime people were saying women should work at home, even now some people are in believe that women should not go out and have to work at home. Now Roya Mahboob brought new ways to empower women and encourage them in different ways of education even at home.
This project started working in Kabul in Sport sections, and sponsoring a football team named Esteqlal, which has 2 different teams, Females and Males. This project wished to extend its activities in Kabul regarding Digital Literacy and Social Media as well. Since one month and half Roya Mahboob is in process of talking with the people who are working in the ministry of education, regarding sustainable Education in Kabul, after all Today she could have a great and successful meeting with Hamayoun Azizi, Deputey Minister of Education for the process of project and extension of it in Kabul, Which Mr. Azizi became happy and promised his best Supports for development of Project, as well as Education system for women in all over Country.
By : Shoaib Barakzai