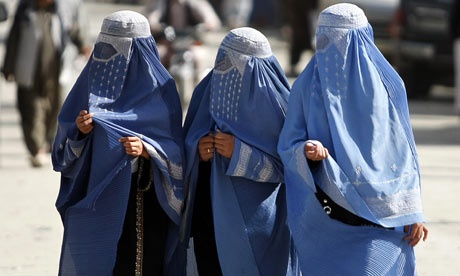 I read an article written by Jerome Starkey of the London Times that spoke about an Afghan womans fight to make the next election in Afghanistan the first to elect a woman. I was deployed to Marjah Afghanistan last year for seven months and saw an Afghan womans struggle for rights first hand. The lack of education in Afghanistan is definetly where it all starts.
Women and girls were permitted to work and were a big part of the education system in Afghanistan before the Taliban took control. I've seen many documentaries on Aghanistan, the ones I've see with women blame the Taliban for the elimination of education and employment for women and girls. Many families would receive "night letters" from the Taliban stating if their daughters were seen attending school it is now the parents responsibily for what happens to them. Also along with these new rules came the forcing of every woman to wear a burka and to never be able to leave their homes unless accompanied by a male or they would be killed. Afghanistans most rural areas and places with the most lack of education in Afghanistan is where women struggle the most.
Re-introducing education in Aghanistan is not only the beginning for youth but also for women. There are only a few women who risk their lives to educate and make change. Roya Mahboob of Herat is one of them working with Filmannex to create internet points eventually throughout Aghanistan schools, also Fawzia Koofi of Kabul who caught my attention trying to become Aghanistan's next president. The more education, the more building of schools in Afganistan, the more teachers it will employ, the more modern Afghansitan will become.
I foresee the Aghanistan government system wanting to push education eventually to all provinces of Afghanistan soon. With this the women of Marjah, who I never once saw without being accompanied by a male, will have the same oppotunities as the women of Kabul and Herat. Even they still fight everyday to make change. An example of a start would be with Roya Mahboob working with Filmannex to establish more education along with the veterans of (G.I.V.E) who are patiently waiting to establish business partnerships and the many opportunities Afghanistan holds. With hardwork, patience, and dedication it will happen.
Please check out other veteran blogs by my fellow Marines.