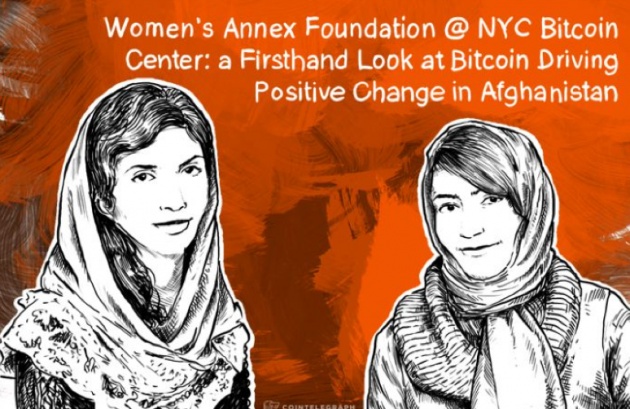 The Women's Annex crew has recently been interviewed by CoinTelegraph, a website that covers Bitcoin news. Digital Currency or Crypto Currency is a new phenomenon in the financial world. The concept of an intangible currency accessible through the web is amazing and confusing at the same time, but what this currency can offer and bring to the market, especially for people in developing countries, is considerable.
You can find the complete article in CoinTelegraph about Women's Annex Foundation's activities in Afghanistan here: "Women's Annex Foundation @ NYC Bitcoin Center: a Firsthand Look at Bitcoin Driving Positive Change in Afghanistan."
Last Monday, the WAF's members also gave a presentation at the Bitcoin Center NYC. Giving the opportunity to an Afghan girl to control and keep track of her own finance is the first step towards self educating and empowering every individual.
You can watch the YouTube video of the event here.
We are happy to see that everyday, the concept of virtual currency keeps growing and includes more developing nations in its circle. Recently, Barry Silbert, who is an investor in Bitcoin companies and an entrepreneur advocate, had invested $250,000 in Bangalore-based Unocoin.
We are looking forward to seeing Bitcoin investors taking the initial steps to support and improve the concept of digital currency in Afghanistan too.
Fereshteh Forough - Film Annex Senior Editor
Please visit my personal page on Film Annex and subscribe. Please also visit Women's Annex and subscribe to it for updates, articles and videos.