1. Walt Disney World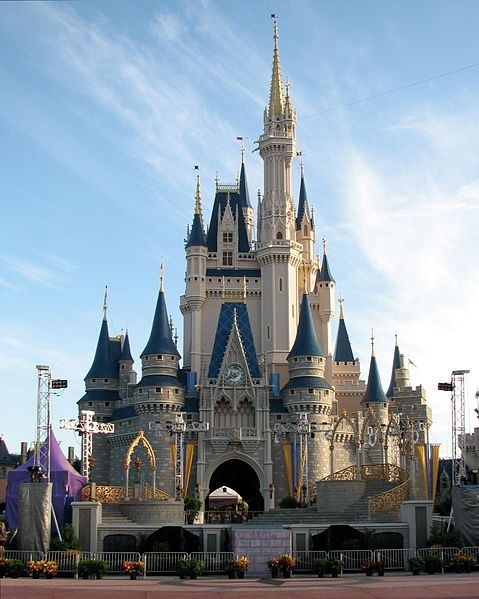 The Walt Disney World Resort, informally known as Walt Disney World or simply Disney World or shortly WDW, is an entertainment complex in Bay Lake, Florida (mailing address is Lake Buena Vista, Florida), near Kissimmee, Florida and is the flagship of Disney's worldwide theme park empire. The resort opened on October 1, 1971 and, according to Forbes, is the most visited vacation resort in the world, with an attendance of 25 million annually.
Disney World is owned and operated by Walt Disney Parks and Resorts, a division of The Walt Disney Company. The property covers 27,258 acres (11,031 ha; 43 sq mi), in which it houses 27 themed resort hotels, 9 non–Disney hotels, four theme parks, two water parks, four golf courses, one nine-hole walking golf course for young golfers (no electric carts allowed), two themed miniature golf courses, one camping resort, one residential area, and additional recreational and entertainment venues. Magic Kingdom was the first and original theme park to open in the complex followed by Epcot, Disney's Hollywood Studios, and Disney's Animal Kingdom, which opened later throughout the 1980s and 1990s.
2. Cedar Point "Roller Coaster Capital of the World"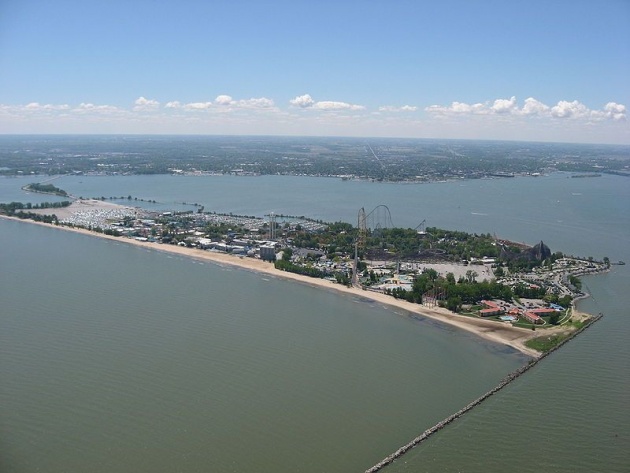 Cedar Point is a 365-acre (148 ha) amusement park located on a Lake Erie peninsula in Sandusky, Ohio. Opened in 1870, it is the second-oldest operating amusement park in the United States behind Lake Compounce. Cedar Point is owned and operated by Cedar Fair Entertainment Company and is considered the flagship of the amusement park chain. Known as "America's Roller Coast", the park features a world-record 72 rides, including 16 roller coasters which ties it with Canada's Wonderland for the second-most roller coasters in an amusement park behind Six Flags Magic Mountain. Its newest roller coaster, GateKeeper, opened in May 2013.
Cedar Point's normal operating season runs from early May until Labor Day, when the park is open daily. The park is then open only on weekends until the beginning of November for HalloWeekends, a Halloween event. Other attractions near the park include a one-mile-long (1.6 km) white-sand beach, an outdoor water park called Soak City, an indoor water park called Castaway Bay, an area known as Challenge Park, two marinas, and several nearby resorts.
The park has reached several milestones. It is the only amusement park in the world with four roller coasters taller than 200 feet (61 m) – Magnum XL-200, Millennium Force, Wicked Twister, and Top Thrill Dragster – and is the only park with roller coasters in all four height classifications. Cedar Point has also received the Golden Ticket Award for "Best Amusement Park in the World" from Amusement Today for 16 consecutive years. As of 2013, the park is the most visited seasonal amusement park in the United States with an estimated 3.38 million visitors in 2013.
3. Six Flags Magic Mountain "The Thrill Capital of the World"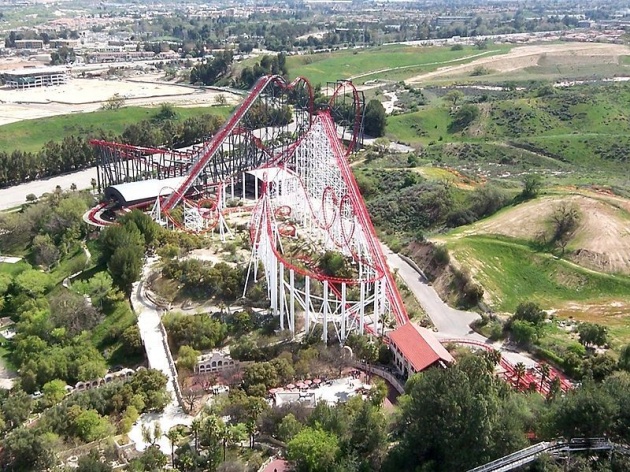 Six Flags Magic Mountain is a 262-acre (1.06 km2) theme park located in Valencia, California, north of Los Angeles. It opened on May 30, 1971, as Magic Mountain, a development of the Newhall Land and Farming Company. In 1979, Six Flags purchased the park and added the name "Six Flags" to the park's title.
With 19 roller coasters, Six Flags Magic Mountain holds the world record for most roller coasters in an amusement park. In 2013, the park had an estimated 2.9 million visitors ranking it fifth in attendance among seasonal amusement parks in North America.
Roller coasters
1. Apocalypse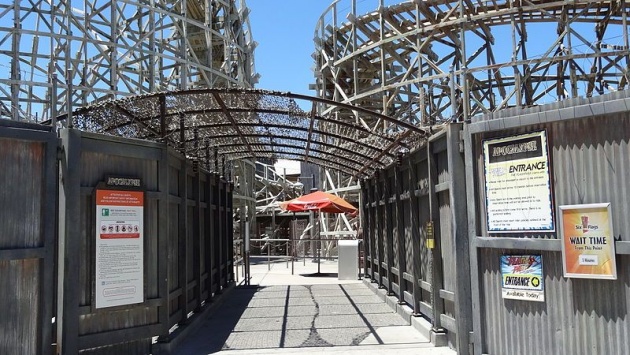 Wooden roller coaster featuring steeply banked turns and twisting drops.
Known in the past as "Terminator Salvation: The Ride" (2009–2010).
2. Full Throttle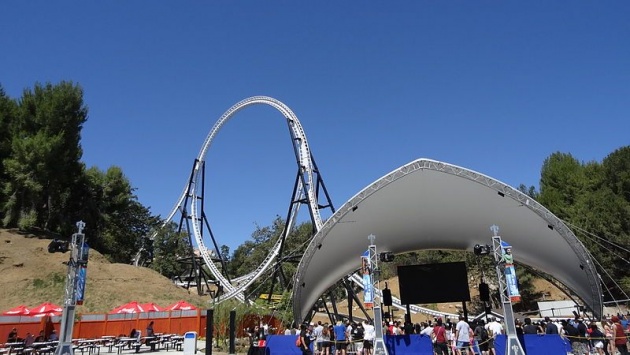 A launch roller coaster with 2 forward launches and one backwards launch. Full Throttle has the world's tallest vertical loop at 160 feet (49 m) and the first ever "top hat" constructed on an inversion. It is also the world's fastest vertical looping coaster.
3. Gold Rusher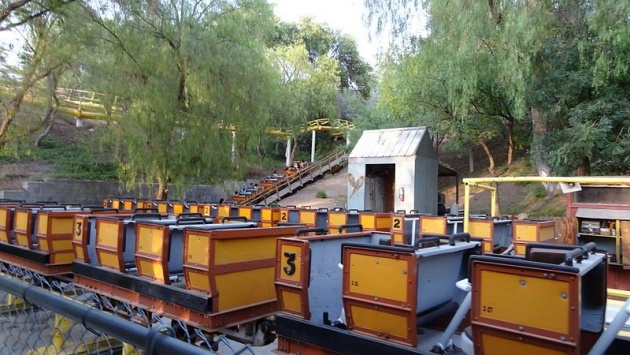 Riders dip, turn, and dive up and around the park's mountainous terrain. Gold Rusher is Six Flags Magic Mountain's first roller coaster.
4. Goliath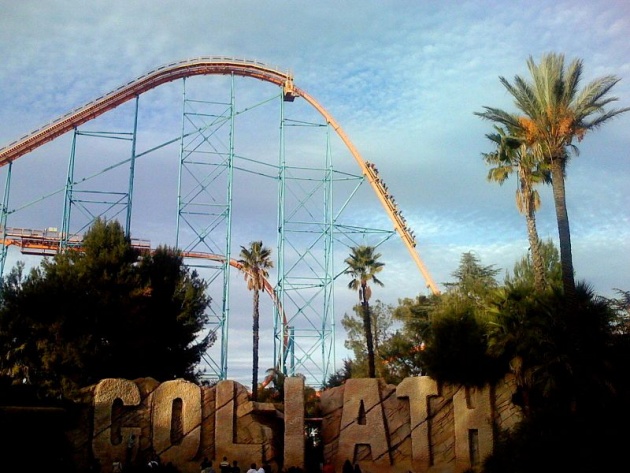 Riders brave an opening drop of 255 feet (78 m) into a subterranean tunnel and multiple steep banking turns..
5. Green Lantern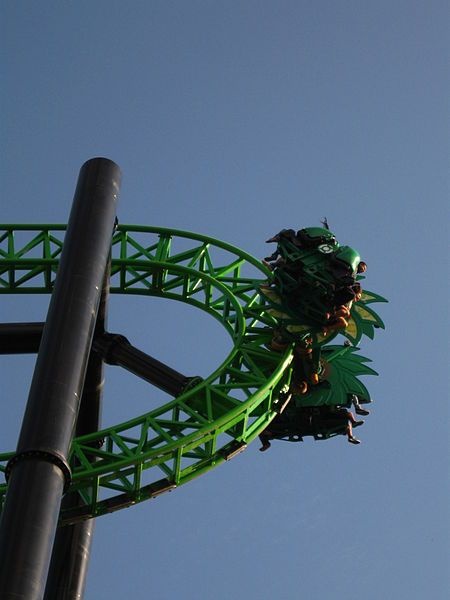 Riders navigate a stacked track path while strapped to seats that freely pitch forward and backward on a separate axis from the track.
-Sources from wikipedia-