Xcorps 35. VIPER - FULL SHOW - Following up the raging XC DUNES off road motor sports series this episode includes hosts Jason Lazo and Rat Sult returning to the California Glamis sand dunes for more sand rod big air action fueled by tight tunes from Xcorps featured artists Poets and Pornstars and Daddy X along with mega vids from Euro metal bands Kreator and Metal Church!
Xcorps 35. VIPER - FULL SHOW
http://www.filmannex.com/movie/xcorps-35-viper-full-show/52034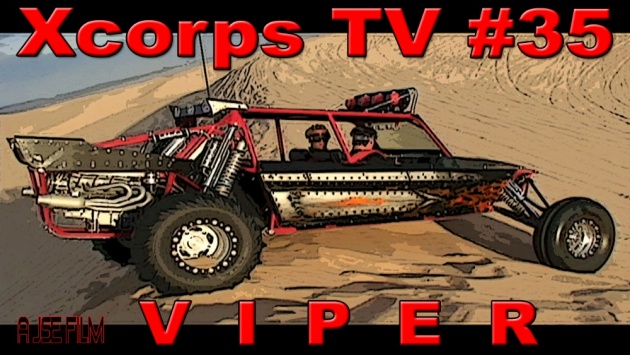 The show opens up from Los Angeles where host Jason Lazo rolls into Hollywoods famous Viper Room club for a live performance from CEG managed Karmagun Records band Poets and Pornstars. Great live action HD shots here with their song War on Gravity setting the pace for this XC episode fast and mucho fun! Segment one starts out with the cameras rolling 90 miles east of San Diego at the Glamis Dunes where Jason meets up with X Games luge skate medalist Rat Sult towing his new 500 HP custom sand buggy into camp. It's not long until the rig is gassed up and flooring up untouched dune faces complete with hood cam shots and a punchy tune from Poets and Pornstars called Get Your Kicks! Nice fit! Jason talks with Rat about the Glamis scene and what to expect over the weekend!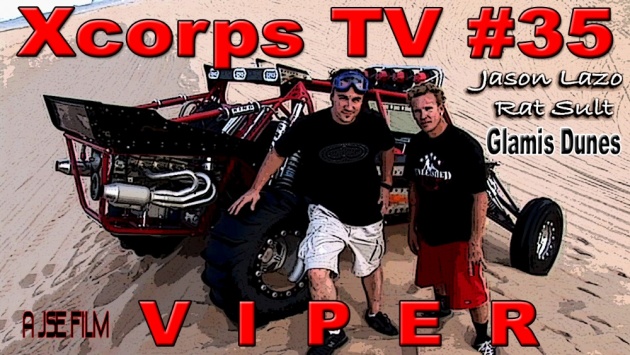 After that the action continues with more dune riding action and some crazy shots of some of the custom rides people create to roll the sand including a cool single seat V-8 monster quad! No smog, speed or horse limits at Glamis! Jason drops a few lines and Sub Noize artist Daddy X rolls his song Mind Bender to shots of Rats car going airborne! Have a drink while you're up there boys! Sound bytes here from Jason on his first impression riding along with the Ratmeister! Rat and J drop down the face of an 800-foot dune in seconds pushed by the Chevy Vette LS2 motor. The action rod shots share the edit with cranking tunes and a massive video from Euro metal band Kreator blowing it up at WOA festival in Wacken Germany one of Europes biggest! The band took the place down doing their song 'People of the Lie' complete with a classic metal scream pumping the Glamis action! Thanks to SPV Records and RIVE for the hookup!
After the break the sand pounding continues with Jason and Rat charging the RatRod up Big Daddy Dune - Oldsmobile Hill - cut with tunes from the equally charging Euro band Metal Church working their song Mirror of Lies at another huge festival in Oslo Norway. The Viking soul seeks Metal! Perfect for the fast action with the segment rolling with even more Glamis HD shots including custom cool all American sand toys and some fun quad drag racing straight up the dune faces! LA band Poets and Pornstars backs the action as well closing out the segment in style! In the next segment Jason pulls it back to LA to The Viper Room where band Poets and Pornstars is breaking out front of the Hollywood club. J introduces the members to the XC audience and talks with leadman Hal Ozsan. Nice XC throw by the band along with some cool live set closing performance shots! The show closes out with Rat and J man back at the Sand Toy capital of the world and some sick night run action tailored by more tunes from Daddy X and his song Mind Bender! Pretty much describes what Xcorps is all about!
Save The Dunes!
See The Action Hear The Music Join The Xcorps!
A J.S.Edmondson FilM 2/2007 Release TRT-22:00 ©2014 TheXcorps
http://www.xcorpstv.com/
Xcorps 35. VIPER - FULL SHOW
http://www.filmannex.com/movie/xcorps-35-viper-full-show/52034