Writing scary vampire fiction nowadays is hard. Bram Stoker made the rules when he wrote Dracula in 1897. And, ever since, vampires have been portrayed as good, bad, heroic, evil, romantic figures, and even as a means for a cheap laugh.
And then came the Twilight series, and vampires went mainstream, in the worst way imaginable. Yes, I hate the Twilight series. They are poorly, written, the characters are flat, and the plots beyond clichéd and mediocre.
So, understandably, when I told a number of publishers that I wanted to write a Young Adult vampire novel that was scary as hell and set in Cairo, Egypt, none returned my calls.
Although I am filmmaker at heart, and spend most of my time writing scripts for potential movies and TV shows, I write the occasional book every now and then. And the story about two kids who discover that their school is under attack from a group of shape-shifting vampires led by an evil sorceress, had been buzzing in the back of mind, on and off, for almost a decade. I knew I had to write it, and I knew that I couldn't make it work as a screenplay.
So I went ahead and wrote it as a book any way. The result: Beware The Stranger, my first horror novel (I've written several more since then), and a story that is near and dear to my heart. It features lots of my childhood memories as a weird kid in Cairo, chasing imaginary monsters with my best friends, and, one time, even breaking into my school at night, after making a pact to investigate the creepy house next to our school (we were eight years old, OK!)
And, most important, the vampires in my story are S C A R Y!
So, if you want to read something scary this Christmas, check out Beware The Stranger, it's a great family read, if your family can handle the scares, that is. You can buy it from Amazon here.
And, as a Christmas gift to you, dear reader, here is a list of some Young Adult scary novels that are just plain awesome:
1- Fear Street: Halloween Party by R. L. Stine
2- Among The Dolls by William Sleator
3- Marianne Dreams by Catherine Storr
4- The Haunting of Alizibail Cray by Chris Wooding
5- The Star Group by Christopher Pike
Merry Christmas!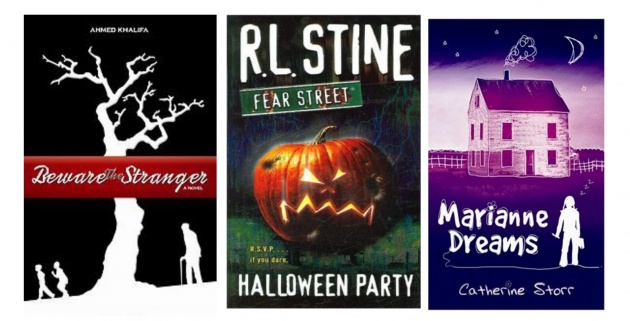 About the author: Ahmed Khalifa is a filmmaker and writer. He is the author of Beware The Stranger, a horror novel, and Egyptian Gothic: Stories. Both books are available on Amazon here. He is also the director of The Weapon, Egypt's first action/supernatural Web Series, which centers on a vigilante called "The Hunter". You can watch the complete first season, for free, here.