MEDIA RELEASE – FOR IMMEDIATE RELEASE

Young German Fräulein and American naval officer team up to win Afghan and German hearts - with Afghan Proverbs in German and Dari
Köthen, Germany and Tampa, USA, March 19, 2014 – If someone had told Daniela Skirl, a young professional woman in a small German town, that she would one day help an American military man create a new edition of the world's first German-Dari book of Afghan Proverbs, she would have laughed out loud in disbelief.
And if someone had told U.S. Navy Captain Edward Zellem in Afghanistan that his off-duty hobby would someday make him the world's leading spokesman for Afghan Proverbs, he would have laughed too.
But it happened to them both.
The result of their chance meeting on Twitter has now become the second edition of Afghanische Sprichwörter Illustriert, published in March 2014 and available in over 40 countries worldwide.
Zellem, an Afghanistan veteran and Dari speaker who worked for a year inside Kabul's Presidential Palace, began using Afghan Proverbs both at work and socially after observing that Afghans often use Proverbs in their daily speech. He also noticed that many of the thoughts behind the Proverbs are universal messages used in every culture. So he started writing them down as an off-duty hobby.
His hobby soon turned into a personal crusade for better understanding between cultures, with Afghanistan's proverbs as the vehicle. Zellem worked on his own with an Afghan high school to illustrate his collection, which became two award-winning books that have received international acclaim and a devoted global following. One of his books, Afghan Proverbs Illustrated, has been published in 13 languages - with more on the way.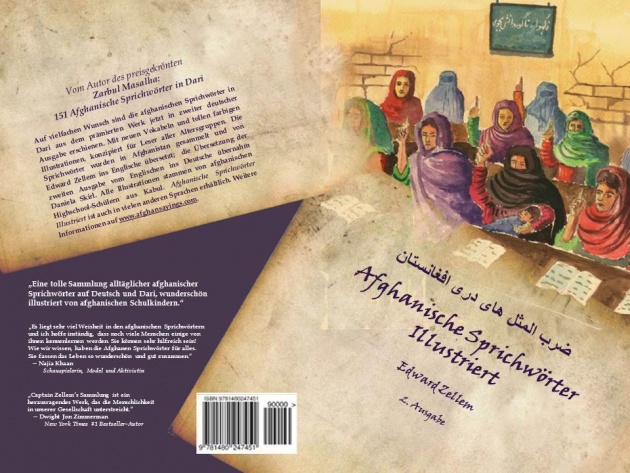 Skirl, who has a passion for languages and all things Afghan, discovered a German-Dari edition of that book late last year. Afghanische Sprichwörter Illustriert was Zellem's first bilingual German edition of the original English-Dari book, and it had become popular among Afghans in Germany.
Daniela Skirl fell in love with the first edition of Afghanische Sprichwörter right away, and was impressed with German-American Christa Ward's original translation. But she also knew there were many more German Proverbs that matched the meanings of the Afghan Proverbs. Germans said the same things in different ways.
Skirl sent her ideas to Captain Zellem on Twitter, and they quickly found common ground. They also both knew that the German-Dari edition was an important one. In addition to the many Afghans with German connections, the German military has led NATO peacekeeping operations in northern Afghanistan since 2002.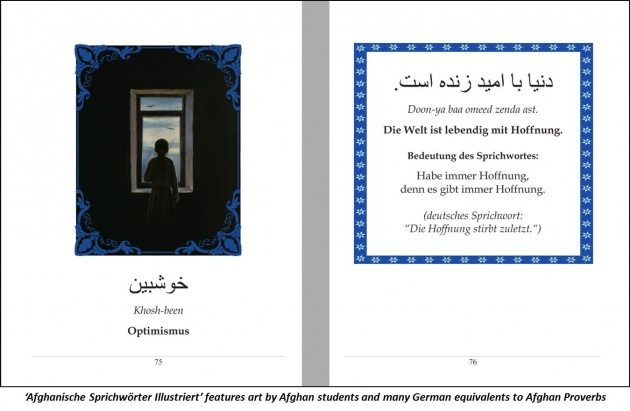 The American officer knew that the young fräulein from a small town could help Afghans and Germans to understand each other even more. The result is a second, improved edition of Afghanische Sprichwörter Illustriert that both hope will help Afghanistan - and the world - achieve a better peace through the common humanity found in Afghan Proverbs. More information, recent media, and media kit at www.afghansayings.com.

About Edward Zellem
Zellem is a 27-year U.S. Navy Captain currently serving at U.S. Central Command in Tampa, Florida. A veteran of several wars, he is known for his work on President Karzai's staff inside the Presidential Palace of Afghanistan and for his two award-winning books of Afghan Proverbs: Zarbul Masalha: 151 Afghan Dari Proverbs and Afghan Proverbs Illustrated, now in 13 languages. Zellem wrote the books "to show how Afghan Proverbs demonstrate our common humanity and the humanity of Afghans."
About Daniela Skirl
Skirl is a young biotechnologist and linguist who discovered her passion for foreign languages and cultures at an early age. She has studied in Germany, Mexico and Spain, and has participated in many exchanges with other young people internationally about languages, cultures and traditions. One of her current projects is working with Edward Zellem to translate and publish the world's first German-Dari edition of Zarbul Masalha: 151 Afghan Dari Proverbs.

###