Even before the advent of nationwide rice cultivation in the Philippines, ROOT CROPS served as a major dietary staple of ancient Filipinos. In fact today, you can find root crops grown in many backyard gardens and farms in my home province of Bicol and the entire archipelago.
Examples of these common root crops are "camote" (Sweet potato), "tangoy" ("gabi" in Tagalog, Taro in English), "ube" (Purple Yam) and "kamoteng kahoy" (Cassava). These starchy root crops can be cooked in many ways as native dishes or healthy snacks. They are highly nutritious and delectable to eat.
Backyard gardening of these root crops serve two purposes. First, it is a staple food for home consumption. And secondly, it can provide the family with a good source of income when sold at the market place.
In fact, there isn't a town market in the Philippines that doesn't have these common root crops on their roadside fruit or vegetable stands. What's more, these root crops are grown all year round and are resilient to adverse weather conditions.
Bicol is always visited and hard hit by tropical storms and typhoons, and root crops are widely served to feed the displaced during disaster recovery. I have heard of many success stories of industrious Bicolano root crop farmers being able to send their children through college. Indeed, root crops are not the humble and lowly fruit of the earth we know of. They are a very good source of livelyhood to many of my province mates. Consider how many varieties of food we can turn out of root crops.
These local root crops I mentioned provide a good supply of glucose in our body that keeps our metabolism and energy levels balanced. Studies show that eating these root crops can help prevent coronary heart disease and diabetes. They likewise improve our physical endurance because our blood glucose levels are kept at a moderate level.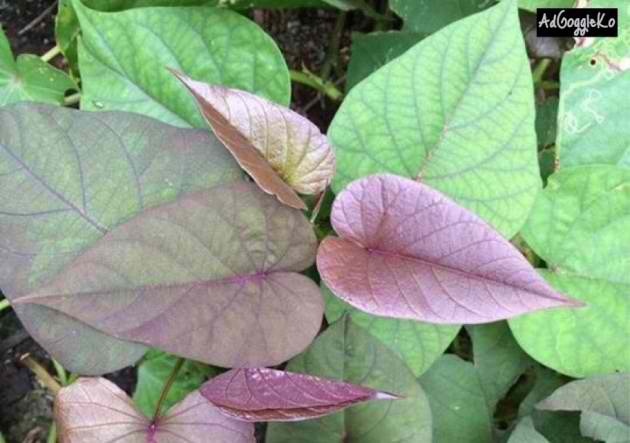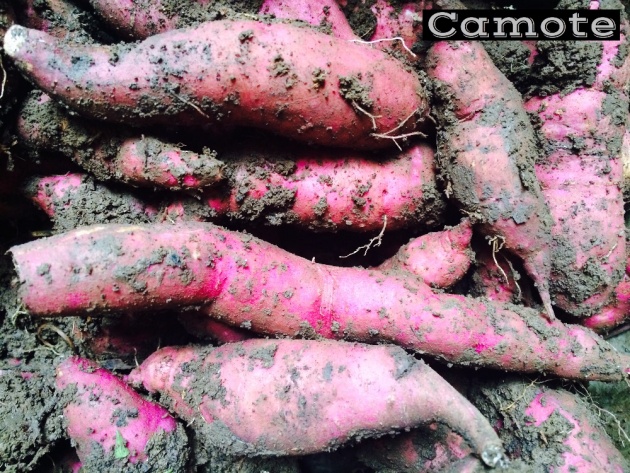 "Camote" or sweet potato is a good protein builder and an antioxidant too. Further more, it is a good source of Vitamins A, C and B6 that help prevent asthma, rheumatism and arthritis.
A popular recipe for "camote" nationwide is what we call "camote cue" or "Kamote Que". It is cooked in the same way as "banana cue". It is stripped of its skin, horizontally or roundly sliced in several pieces, deep fried in cooking oil and brown sugar. Watch recipe videos above.
Here in my hometown, we have a recipe we call "LAUYA". Cut the "camote" into cubes and cook as a soup with lemongrass and a pinch of salt. It is said to be good for the digestive system.
Or, add "camote" when cooking congee.
Another confectionary bi-product of sweet potato or "camote" is what we call "molido" in Bicol. "Molido" is a Spanish word meaning ground or milled. It is a popular native dessert and homecoming gift or "Pasalubong". It is made of mashed or ground sweet potato mixed with sugar, condensed milk and grounded pili nuts. It is cooked until it becomes caramelized. Let it cool and serve. Or, shape them into small bars and wrap with "Papel de Japon" and you've got "camote candies". This is one sweet and delightful Bicolano delicacy that is sought after in Manila specially during Christmas time. Its a perfect give-away that will make you want for more.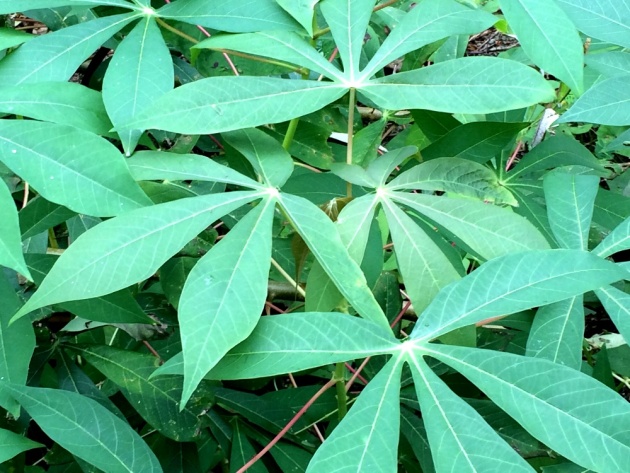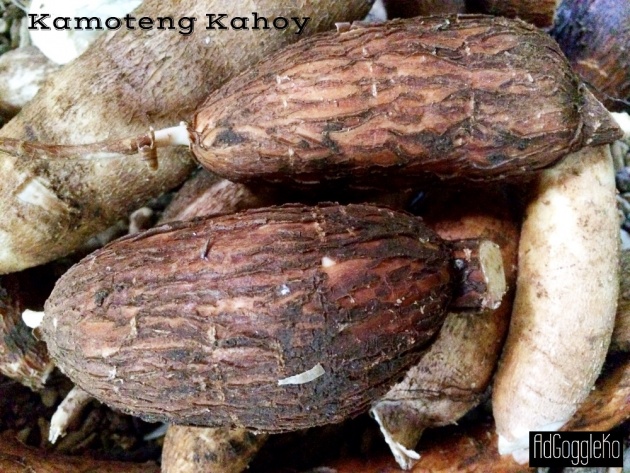 "Kamoteng Kahoy" or Cassava is a major source of carbohydrate and are packed with starch, potassium, manganese, calcium, phosphorous and vitamin C. It is said to lower or control the risk of cardiovascular diseases, diabetes and colon cancer. Cassava is known to have nearly twice the calories found in potatoes. It also contains protein and vitamin K which is a bone builder and a good treatment for Alzheimers disease.
A common native recipe of cassava or "kamoteng kahoy" is what we call "linusak" ("nilupak" in Tagalog). Its one of my favorites. Watch recipe videos above.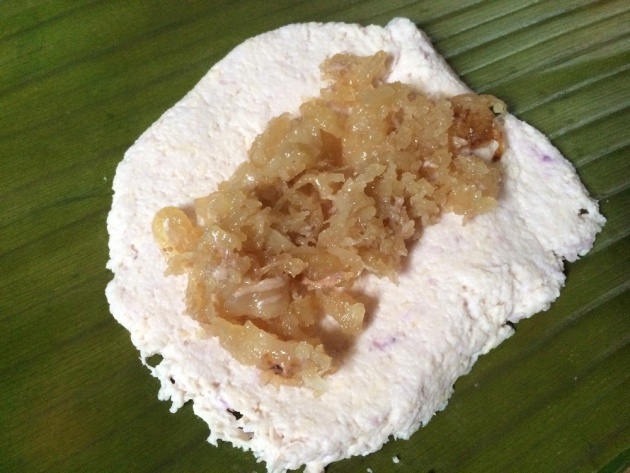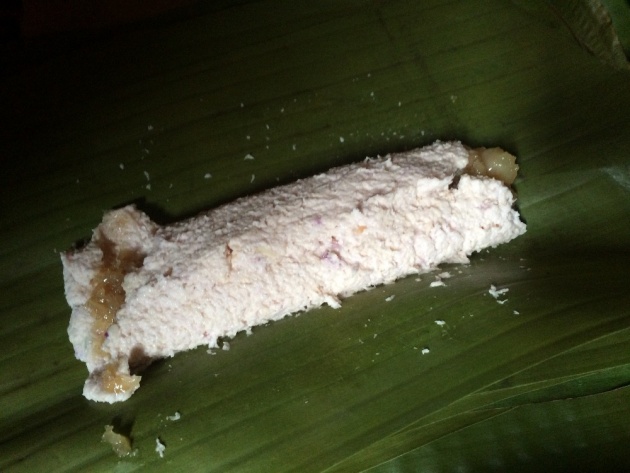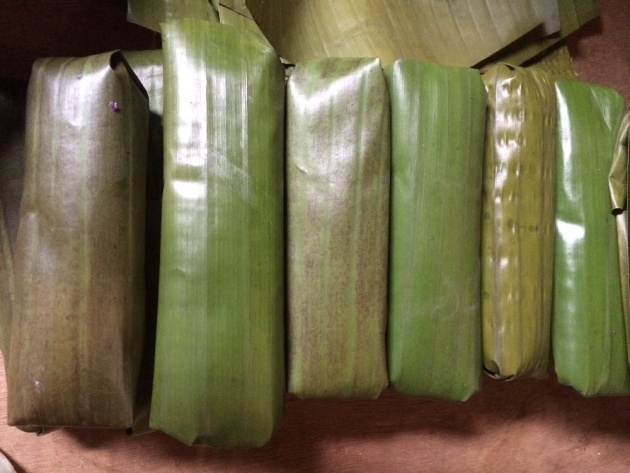 Another cassava delight is what we call "suman". It consist of grated cassava that is tightly squeezed. Place enough amounts in a banana leaf with sweetened coconut candy in the middle, wrap it up and boil in water until cooked.
Another cassava favorite is what we call "tapi-tapi". Grate the cassava, tightly squeeze, mix with mashed banana and a fair amount of sugar then fry (similar to banana fritters). With or without banana will turn out fine.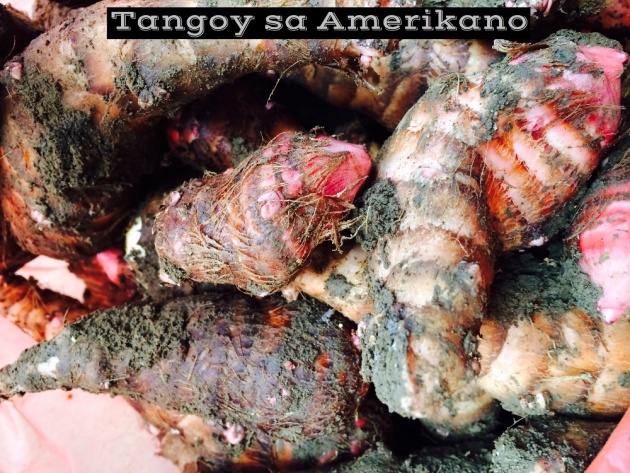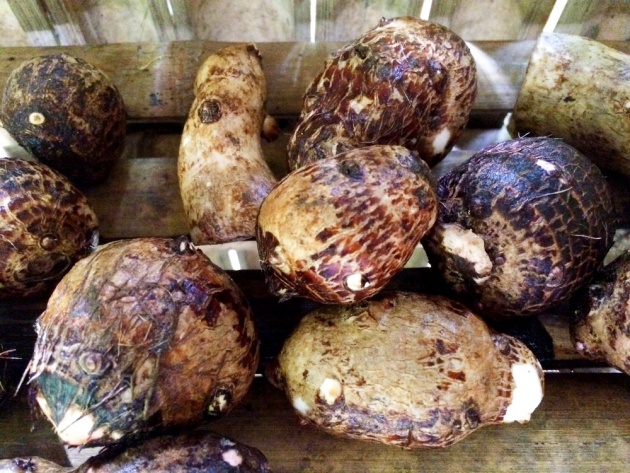 "Gabi" or Taro on the other hand, is a favorite root crop of us Bicolanos. Our famous native dish called "laing" makes extensive use of taro leaves. It provides high levels zinc, magnesium, phosphorous, iron, potassium, copper and manganese and vitamins A, C, E, B6 and folate. Taro lowers blood sugar levels, prevents certain types of cancer, improves digestion, enhances blood circulation, strenghtens our immune system, improves our vision, protects the skin and prevents cardiovascular diseases.
Aside from the Bicolano dish called "laing", "gabi" or taro is commonly used as an ingredient in a native stew we call "pork sinigang".
In Bicol, my favorite taro delicacy is what we call "KALU-KU" or "KINALU-KU". Peel the "gabi" or taro root crop, then carefully grate ONLY the middle portion of each taro to make it look like a banca or canoe. Mix the grated taro with grated coconut and sugar and insert into the scooped-up taro root crop. Fill it up well until the scooped taro root crop becomes firm again. Cook this in coconut cream and WOW, delicious!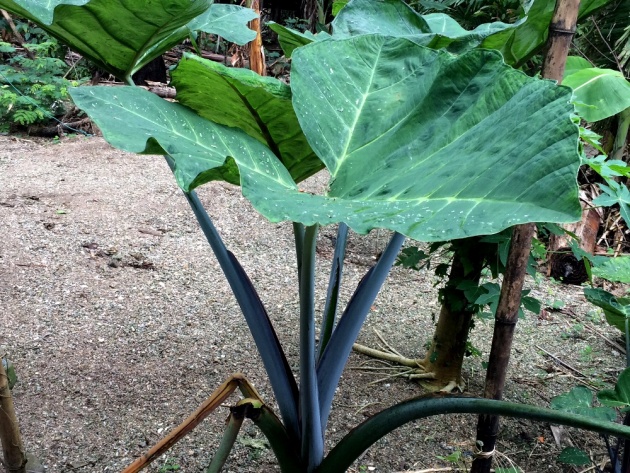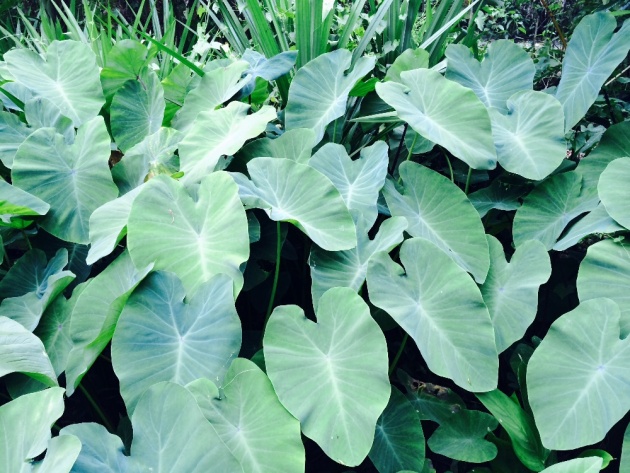 There are two varieties of gabi or taro in Bicol. The leaves of the bigger variety (we call it "tangoy sa Amerikano") is never used to cook our native dishes. Only the root crop is harvested for food. It is the best tasting root crop of this kind. The leaves of the smaller taro variety are what we use in making and cooking our famous "laing".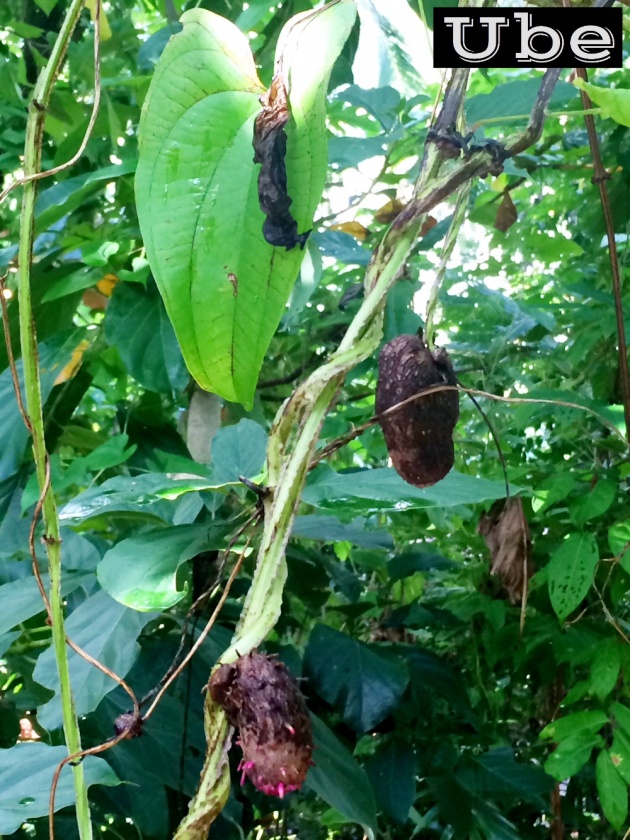 Finally, "ube" or purple yam is the favorite root crop of Filipinos in making its famous dessert simply called "ube halaya". It is always served on every dinner table during town fiestas nationwide. A fiesta won't be complete without "ube halaya" on the table. But mind you, it is very tedious to cook. You must have the strong hands of Popeye to cook "ube halaya" the way it should be.
Yam is a good cure for hypertension and diabetes. Because yam is rich in vitamin C, it is good for fighting respiratory ailments like the common colds and influenza. It also aids in healing wounds quickly and also serves to improve our immune system. It provides us with stronger bones, prevents constipation, decreases our cholesterol levels and lowers the risk of colon cancer. Most of all it is an excellent anti-aging agent. Wow! I like that!
Here in Bicol, we also have root crops that are quite similar to the most common ones I mentioned. We call them "baribaran" or "barbaran", "pulugan", and "namu". They are crawling root crops.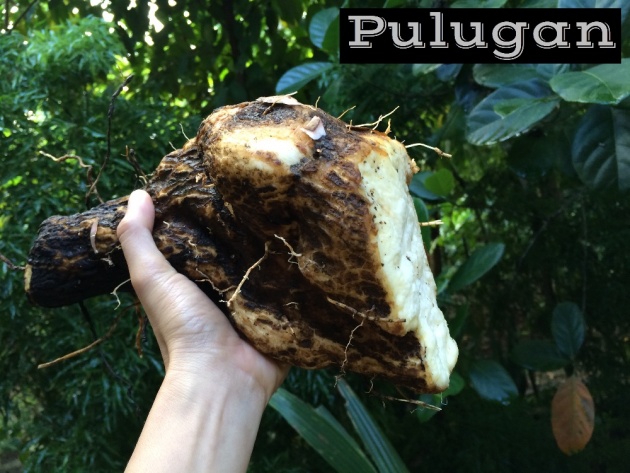 "Pulugan" (Dioscorea alata) is a tuber similar to "ube" or purple yam except for its color. Instead of the bright lavender colored yam, "Pulugan" is whitish in color.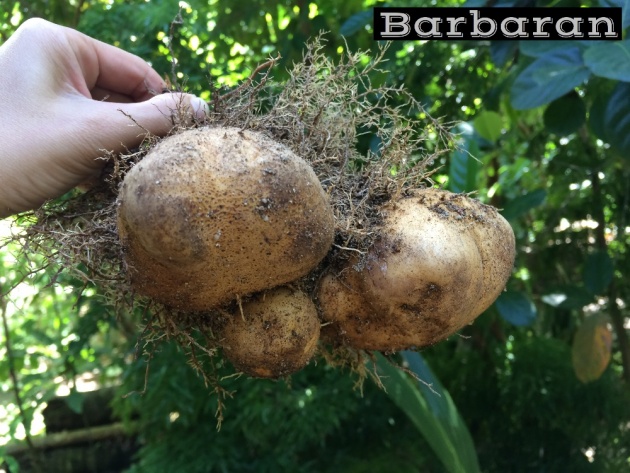 "Baribaran" or " Barbaran" on the other hand seems to be a potato variety. Although it is covered with hairy like roots similar to... ooopps censored! Well, I will leave it to your fertile mind and imagination on what I really meant to say. Sorry guys, I really can't. LOL!
We usually mix these root crops cut in cubes and cooked in sweetened coconut milk. We call it "ginat-an" (ginataang halo-halo). Watch recipe videos above.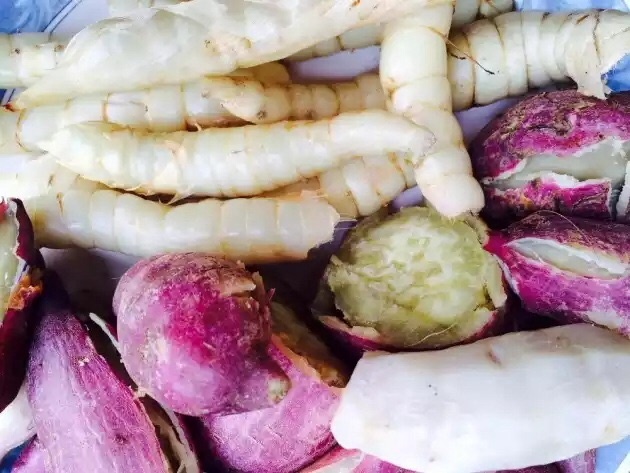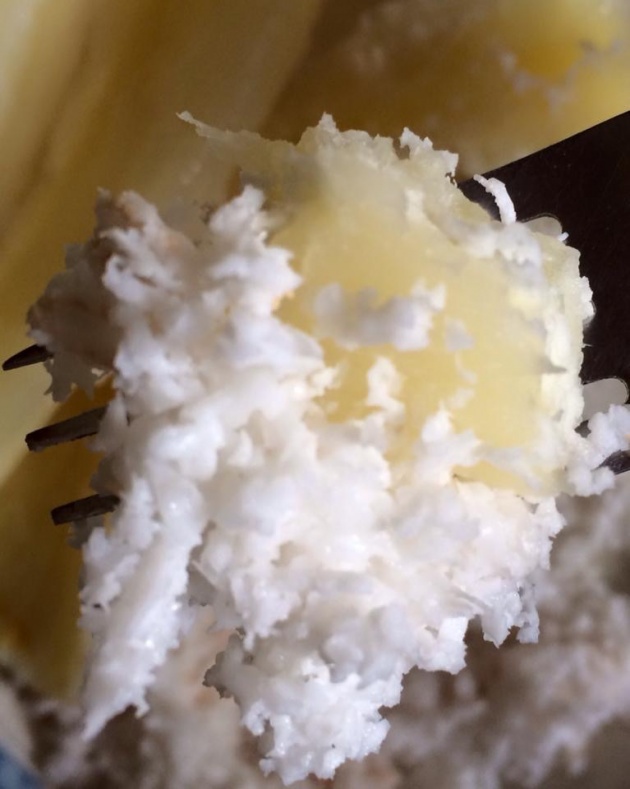 Or, simply cooked boiled and served with grated coconut. Excellent for breakfast or snacks.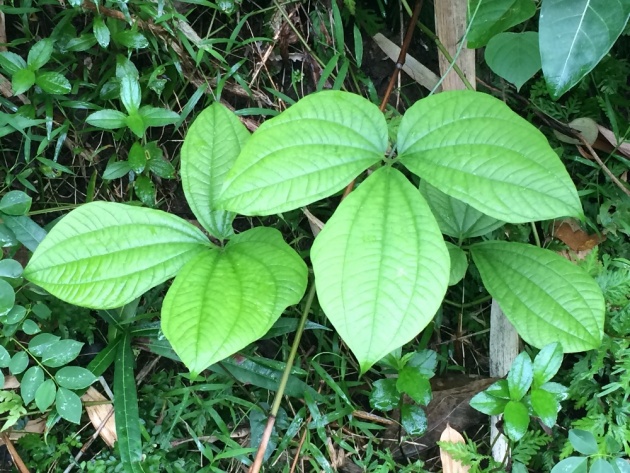 "Namu" also looks like a potato and is said to have poisonous properties if you do not know how to prepare it. In the meantime, let's enjoy common Bicolano root crops, many of which are easy to prepare, cook and eat. Bon appetit!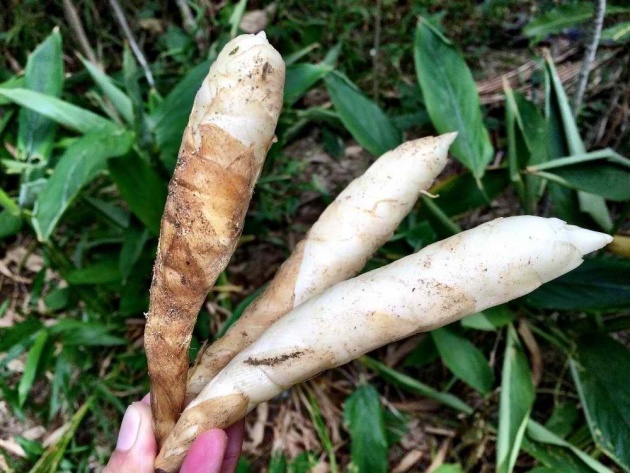 We also have "uraro" or Arrowroot.
Cassava and "uraro" can be thinly sliced as in potato chips. They are sun dried prior cooking.
Another popular Bicolano recipe is called "LINUKAY". We use either sticky rice or grounded rice or starch of the "uraro" and cassava cooked with coconut milk and sugar.
Grind dried "uraro" or cassava in a wooden mortar and pestle and strain until you get a good amount of "uraro" or cassava flour. Add or mix with coconut milk and sugar. Boil and simmer until cooked. "Linukay" is an ideal meal for breakfast or as a snack.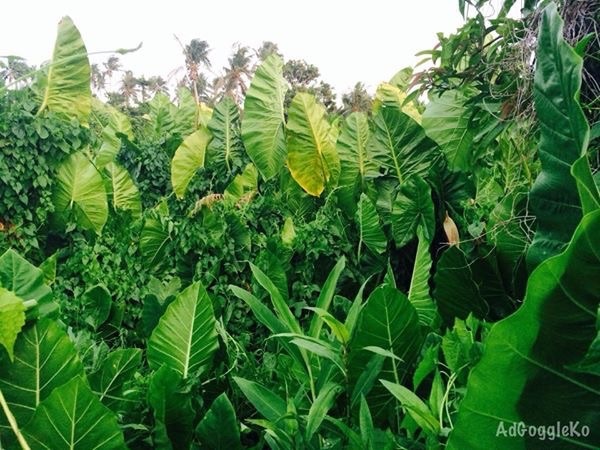 Oh, I forgot about another root crop we call "Galyang" or "Galiang" (PALAUAN" in Tagalog, Giant Swamp Taro in English). It must be related to taro except that is much larger. It is difficult to get the "palauan" root crop. Even our menfolk steer away from undertaking this tedious task. You need to have a long and round metal bar that has flat and pointed tip on the other side. We call this digging implement "perno" in Bicol. It is extremely difficult for man or woman alike to get the root crop of this tuber. You need the "perno" to carefully dig up the huge "palauan" from beneath the soil. Then place the tubers in an empty sack of rice and tie it up tightly to make sure it is air tight. If not, even a little exposure to air will make "palauan" gather moisture and will taste bitter once cooked (boiled or nilupak or ginataan).
Actually, there are more than a hundred and one recipes all about our native root crops. I might as well end up writing a book to finish all! LOL!
The best I can do is to summarize all of them in just one word -- YUMMY!
Here are more Root Crops Recipes on youtube:
Pinoy Fish and Taro Chips
Ube Pastillas or Pastillas de Ube (Purple Yam Candy)
Pichi-Pichi (Steamed Grated Cassava)
Cassava "Puto"
Cassava Cake
"Suman Camote" or Sweet Potato wrapped in banana leaf.
ENJOY!
***ALL images are my own***